Newsletter April 2019
Dear Client,
Hello. Welcome to the VMR newsletter for April 2019. Please click here to view online if it's not displaying properly for you.
We hope you enjoyed our newsletter back in December – we enjoyed compiling it and we had some good feedback, so thank you. Here's our latest offering, just ahead of the great Easter chocolate fest! Personally my favourite festival of the calendar.
Easter is an expensive habit for me. I buy lots of eggs, allegedly for all the family, children, daughter, grandchildren, nieces and nephews. Then I eat them. So I buy them again. And then I eat them. And then I buy them again. At the third time of buying, I usually ask someone to hide them, but I can usually find them – I'm a seasoned pro when it comes to sniffing out chocolate.
Of course, there are always the ones that don't get found during the hunt, so I always manage to scavenge those to keep me going for a bit after the big day.
This update as before will give you some interesting updates on what we're doing, have done and what's coming up. We hope you like it and wish you all a very good Easter break.

Recent Developments at VMR
Document Search
You will already know, we at VMR are constantly striving to improve our service to you. We have recently upgraded and improved our client portal and you are now able to access processing reports and returned mail reports. We're now able to give you access to even more information about the jobs we process for you.
Our new Document Search tool allows you to drill even further into the details of the correspondence we have handled. For instance, if you want to know how many times you've sent information to a specific recipient, you'll be able to use this new functionality to find out exactly what was sent and when, then drill down into the content of the envelope as sent. This means you won't have to trawl through the per-job processing reports to find the information you need.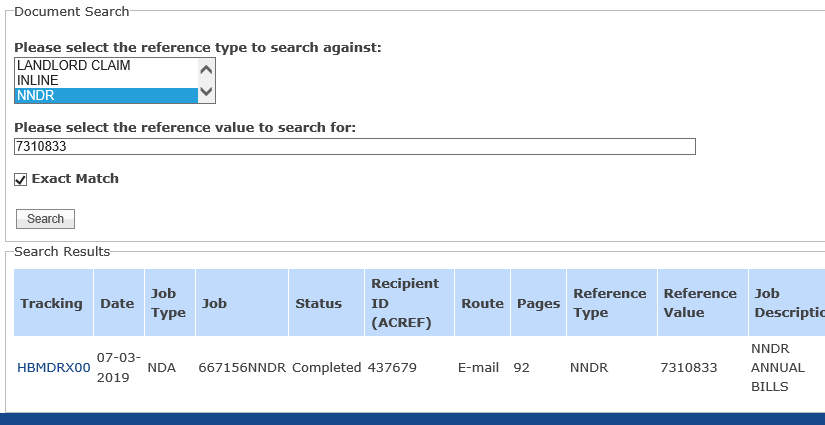 Our ultimate aim is to give you a full suite of management Information, easily accessible via the portal so watch this space for more updates in the coming months.
Did You Know?
During our peak production period of 3 weeks in March, we managed to reduce the overall number of items posted for our Local Authority clients' annual Council Tax bills and Benefits letters by an average of almost 10,000 fewer envelopes per client.
We can do this because we are able to match documents destined for the same recipient and put them together in a single envelope. This not only delivers significant cost savings but also makes for a better customer experience and reinforces our clients' green credentials.
In total we saved each of our clients in the region of £3,000 in postage and materials costs.
For those of our clients who use our email solution, these savings are even greater. Sending an e-bill can save up to 40% on cost compared to print and mail.
Focus on... Hybrid Mail
VMR offers a simple desk-to-post service for individual members of your team.
If you are already signed up to our hybrid mail service, you will know how effective it is and how easy it is to set up and get going. For those of you who have yet to take the step, here's a summary of the service and benefits.
Hybrid Mail is a simple solution which allows users to produce correspondence from anywhere at any time, batches it and prints and mails it from a centralised site. You don't have to leave your desk to load paper, collect the print, put it in an envelope and then put it in the out tray ready for collection.
No need to run around trying to find the correct forms or inserts to include; Hybrid Mail can do all of that for you.
If you're working from home, no problem. You won't have to rely on colleagues to help with printing and posting or travel to the office to do it yourself.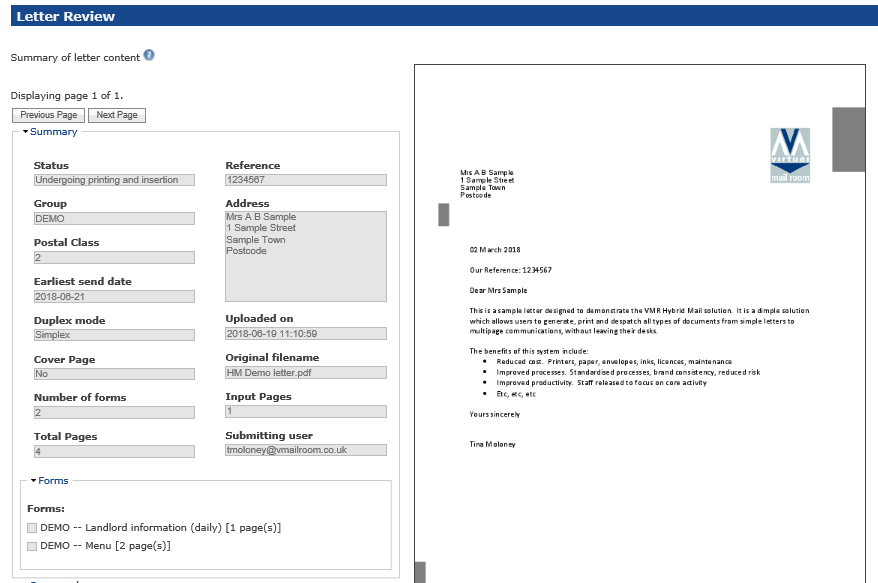 This is how it works:
Office staff from all departments create documents from any business location including home, on their PCs using MS Office applications
When the document is ready, simply send to VMR using the MS Word plug-in or direct PDF upload option.
Check the letter for accuracy and make sure the address position is properly aligned (important to be sure the address appears in the envelope window)
Choose from the following options

⇒ postage class (1st Class, 2nd Class, Special Delivery)

⇒ despatch date (this can be the same day or any date in the future)

⇒ print types (simplex/duplex, mono/colour)

⇒ Add inserts from the forms library

Click 'submit' and the document is sent for processing
All documents received from your organisation is batched and streamed to appropriate production files, taking account of your chosen options
Documents are processed and despatched
If you would like to learn more and/or set up a demo, contact Tina Moloney on 0208 898 6565 or 07757 980576.
© Copyright 2019 Virtual Mail Room Ltd.