Newsletter -- November 2018
Dear Client,
Welcome to the VMR newsletter for November 2018. Please click here to view online if it's not displaying properly for you.
In these updates I'd like to keep you abreast of current VMR developments, highlight some of our offerings you might have missed and explain how to get the best out of the features you may already be using.
I hope you find these updates useful but please don't hesitate to get I touch if you wish to discuss any of the features in more detail.

Recent Developments at VMR
We've introduced a feature to allow you to see summary information for recently uploaded jobs.
Users with access to the Jobs menu on our client portal can now view the new Job Reporter module. It presents you with a list of recently uploaded jobs, either received via the Job Upload module on the client portal or sent via automated SFTP. An overview of statistics such as current status, total records processed and post versus email count is presented on the first screen, but for the first time, the option to download copies of the Initial and End-of-Processing reports, plus any applicable Certificates of Posting, is available on demand.

Did You Know?
Virtual Mail Room has three independent production sites in the UK and is developing a network in the US. This allows us to offer built-in business continuity so there is no delay or impact on your work in the event of an incident at one of the production sites, and should you wish to expand your business beyond the UK and into the US we're here to help you with that too.
Focus on... Email Sign Up Capture Service
VMR offers a simple way to invite your customers to move to e-communications.
A short personalised URL (pURL), with the option of a QR code, is printed on your usual postal correspondence. This has a unique randomly generated element and a section tied to the recipient for ease of transcription. We invite the recipient to enter the pURL in their browser if they'd like to opt in. For example, Mr Smith receiving a Council Tax bill, may be asked to visit ctax.eu/abcdeSMIT.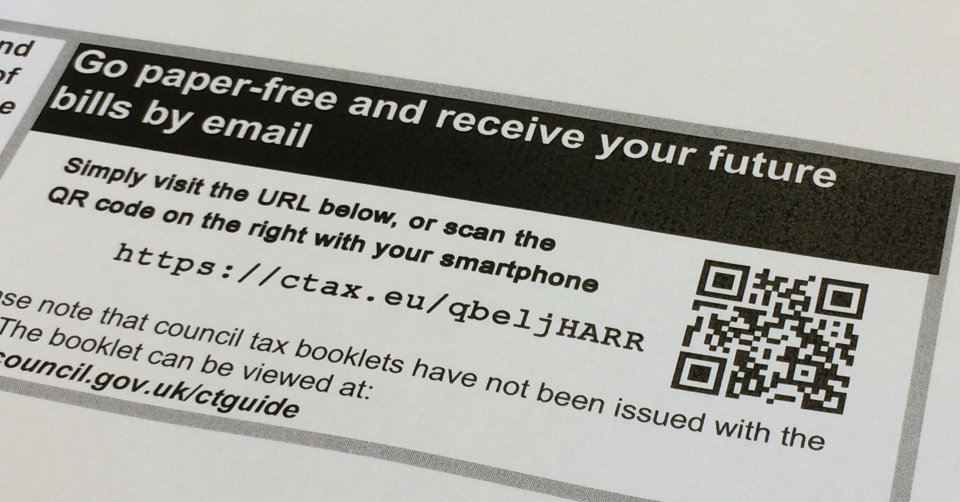 The pURL will take the customer to a secure web page carrying your corporate branding (you may also supply a custom CSS to increase the level of integration with your corporate brand) where they are prompted to enter the postcode to which we've sent their document. This, coupled with the original unique code they've already entered forms a security check and confirms the user hasn't reached this page in error or followed a friend's link by mistake.
Upon successful verification of the user's authenticity, their communication method preference and email address if applicable are recorded and reported back via the VMR client portal to you. Visitors failing this check, or for whom we have no postcode (such as overseas recipients) are asked for some more contact information. These are also reported back via the client portal, but are marked for your further attention.
Auto-verified sign ups (those who have passed the unique code + postcode verification steps) may be committed directly to the VMR database by a simple click of a checkbox, or the entire list may be downloaded for internal analysis and ingestion to your own systems.
Regular email updates are sent to your users having access to this list to let them know the progress of the campaign and to alert them to any outstanding items for their attention.
This quick and easy to implement option has proved very effective in obtaining informed customer consent to receive email communications with very little overhead and cost to you. It will help you meet your strategic targets of reduced cost, migration to digital and reduction of your carbon footprint.
Get in touch to discuss how the Email Sign Up capture service could work for you.
© Copyright 2018 Virtual Mail Room Ltd.